Lyric Ideas for Songwriters
LYRIC IDEAS FOR SONGWRITERS E BOOK
The Lyric Ideas for Songwriters eBook PDF generates inspiration for your songs in a wide variety of ways.  Over 100 pages of lyric idea prompts. A wide variety of words and phrases will help you brainstorm fresh ideas for your songs. No  more writers' block. Lyric Ideas for Songwriters is the perfect think tank when you are in songwriting mode.
Over 2,000 song lyric ideas(titles for your songs)  Pages 8-75
A large collection of unused lyrics (Free to use in your songs)
Hundreds of ideas for the subject of your songs
101 ways to say I Love You in lyrics
A chart for writing about life's common problems and finding solutions
It's a think tank for boosting your creativity
A mini thesaurus for cleverly describing people and emotions
We're sure that you'll find this eBook  an inspirational source of ideas for those wordless moments. If you need words for music, inspiration can be yours today.
Never be stuck for lyric ideas again. Meditate to innovate. Keep your songwriting edge.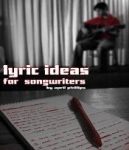 After purchase, please click on the download link and check the downloads folder on your device.
If you have any problems with your download please let us know.
Contact:  lyricideas1@gmail.com